Testimonials
sustainable / achievable / results
KASlyn G. - 2017
If you are looking for a trainer/instructor to help you to help yourself Anthony is your guy. He is inspirational, motivational, positive, fun, patient, informative & will educate him on the importance of nutrition. Without Anthony's paitence & guidence I doubt that I would have seen my results in such a timely manner. The most fulfilling part of working with Anthony, is being able to follow the same regime on my own with confidence.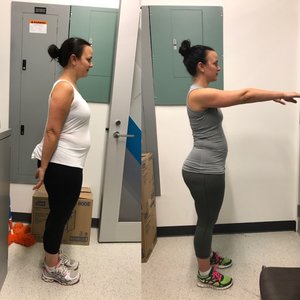 ASHLEY COOK-TOMBIA - 2018
Anthony is a truly an amazing trainer! I started seeing Anthony four months post-partum with my second baby. I was tired, out of shape and discouraged because my body wasn't bouncing back to "normal" as fast as it did the first time. Anthony's warmth, support and encouragement was exactly what I needed to help build consistency, and the results that I have achieved to date are because of his diverse training methods, individualized programming and challenging but achievable goal setting. Anthony is extremely knowledgeable and consistently goes above and beyond by researching new exercises and training methods to accommodate my needs. Although he works hard, he definitely also knows how to have a little fun and I feel honoured to be a part of his fitness community.
ANTHONY LAM - 2016
I am a big believer in practice what you preach.
As a fitness professional specializing in strength and fat loss, I needed to prove to myself and others that change is possible. I designed my own 8 month program that brought me from 30% body fat to 10% body fat.
Regardless of your age and current fitness level, you will be surprised at what the body can achieve. It is just the science of our bodies. Trust the process.
MARIA MOUTIHNO - 2017
Anthony is an amazing personal trainer. I love working out with him. He is very professional and he always reminds me that the only way to get stronger both physically and mentally is to work outside my comfort zone. Because of him I was able to get the confidence to overcome many obstacles and I'm very proud of that. I lost 10 inches from my belly and it is gone and firmer then ever. My colleagues congratulated me so many times, I love my results. I recommend him to all my friends and family.
ANTOINETTE LOWE - 2018
This trainer is amazing...Results happen if you put in the work...Love Anthony...The results after 6 weeks of working with him...shows and I love it...Thank you to a great trainer who's shown me how to Live Life & Stay Fit!!! Anthony is a top notch Trainer!!!